Description
Replaces Item No. 574328
Oval shape, larger glued area, more stability.
The DOMINO system unites the precision of a round dowel with the flexibility of a traditional flat dowel – the perfect solution for panel joints.
The system consists of the DF 500 dowel jointer, DOMINOs in different sizes and a wide range of accessories for special applications. The result: extremely strong, invisible joints. And DOMINO can do much more: rack joints, frame joints, drawer joints, etc.
A system that joins everything up
The DOMINO DF 500 is particularly easy to handle and offers almost unlimited jointing possibilities. No matter whether it is panel or cabinet construction, for lightweight frame or rack joints – the DF 500 impresses with maximum precision, flexibility and simple handling.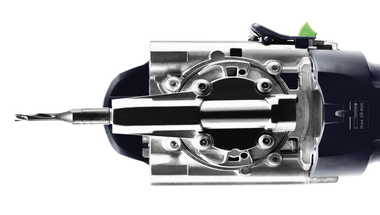 Pendulum cutting principle
Unique among manual machines and patented by Festool: The DOMINO DF 500 jointer routing motion. The simultaneous rotating and pendulum movement of the router allows smooth working and holes without scorch marks. Thanks to the pendulum motion, the routers do not overheat, leading to an extremely long tool life.
Innovative stop system
One of the main time-based advantages of working with the DOMINO DF 500 jointers arises from working without complicated measuring or marking – with the DOMINO DF 500, the fast and precise positioning is quite simple thanks to the stop catches.
Save time when using the same cutting depth over and over again
For great flexibility and precision: You select your required routing depth using the detent lever lock. The options are 12 mm, 15 mm, 20 mm, 25 mm and 28 mm.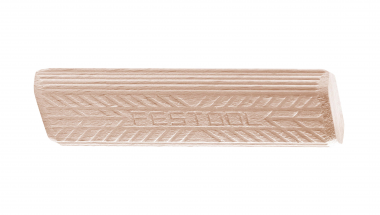 Maximum stability
The special shape of the DOMINO in combination with expanding glue pockets and lateral longitudinal grooves gives the dowels a secure grip. You can use the Festool DOMINO DF 500 joining machine to process DOMINOs up to 10 x 50 mm in size. Also available as individually adjustable rods.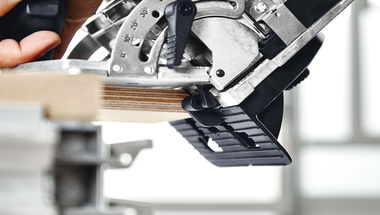 Works every time
Precision mitre routing using presettings or infinitely variable routing angle adjustment.
Ideal for drawer joints
Even thin workpieces from 12 mm can be easily connected – ideal for the sides of drawers.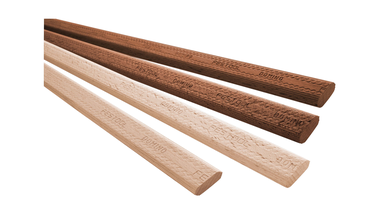 For inside and out
DOMINOs are available in two materials: Beech for interior applications and weatherproof, insect- and mould-resistant sipo DOMINOs for outdoor applications.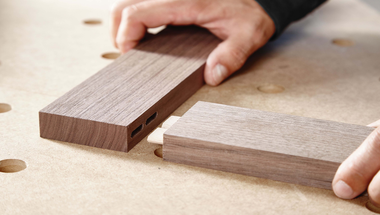 100% rotation-proof
Right from the first DOMINO the joints are completely secured against rotation – without aligning the workpieces.
Working with extraction
Larger quantities of chips are created when working with the DOMINO DF 500 jointers. To improve chip removal out of the routed hole during routing, as well as to protect your health, we recommend always working with a dust extraction system.
DOMINO system accessories
Accurate joining of round and square timbers, as well as for repeat hole spacing too: Compatible as a system accessory for the DOMINO XL and DOMINO DF 500.

CLEANTEC Connection System
Integrated bayonet fitting as the connecting element between the extractor and the tool.

Plug-it
Removable, replaceable power cable with safety lock for fast switchover.

Plus Systainer
Plus versions of power tools come in systainer storage containers.
What's Included:-
DOMINO cutter D5
Support bracket
SYS 2 T-LOC systainer
Operating tool
DF 500 DOMINO Joining Machine in Systainer 576416 by Festool
$1,945.00